Title: Turtles All the Way Down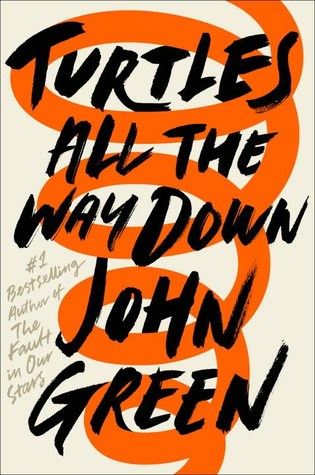 Author: John Green
Genre: YA, Fiction, Contemporary, Mystery, Mental Illness
Rating: 4.5/5
Synopsis: Sixteen-year-old Aza never intended to pursue the mystery of fugitive billionaire Russell Pickett, but there's a hundred-thousand-dollar reward at stake and her Best and Most Fearless Friend, Daisy, is eager to investigate. So together, they navigate the short distance and broad divides that separate them from Russell Pickett's son, Davis.
Aza is trying… continue reading on Goodreads: 

My Review:
Warning: There is a spoiler included, I give a warning beforehand.

I did not expect to enjoy Turtles All the Way Down. John Green is a popular author, and though I loved Looking for Alaska and The Fault in Our Stars, lately his books had been a miss with me. I wasn't even sure if I wanted to read Turtles All the Way Down, but a friend recommended it to me. So, I decided to give it a chance: I do not regret it!

The beginning caused some apprehension, as it begins with Aza's anxiety disorder and obsessive thoughts. This caused me to question, "Did I really want to keep reading this?". However, I started to relate to Aza (especially with some of her existential crises). I appreciated Green's realistic and detailed portrayal of Aza's  anxiety disorder. I liked that it consumed the main focus of the book, just as it consumed Aza's life. I had expected this to be a mystery-romance book, and in a way it was. But that takes a back burner as the secondary plot, while the true story becomes apparent: Aza's struggle to be apart of her daily life without her intrusive tormenting thoughts.  

Admittedly, I HATED her friend Daisy. This was not a regular hate, but more of a deep, burning anger.  There were some redeemable qualities about her (like her love of Star Wars), but overall I despised her. I felt like she didn't attempt to understand what Aza, her "best friend", was going through. Most of the time she tolerated Aza's issue, but even then she was still easily annoyed by her and even mocked her – what best friend does that?
SPOILER ALERT – READ AT YOUR OWN DISCRETION: Alright has everyone who doesn't want to read a spoiler left? Yes? Good! What irked me the most was that Daisy wrote Star Wars fan fiction. Now this alone is nothing to be upset over. What WAS upsetting was the fact that Daisy created a character based on Aza and how she represented her was absolutely HORRIBLE. The character was annoying, ruined everything and was a constant nuisance. I almost threw my book, I was FURIOUS. No one should EVER treat their best friend like that! I'm still angry beyond belief and think her actions were unforgivable.
SPOILER OVER – YOU MAY NOW PROCEED READING: I felt like she was selfish and self absorbed. At times, i felt like she was exploiting Aza too, which made me wonder if that was the real reason she stayed friends with her. I liked her a little more at the end of the book, but I was not a Daisy fan.

I neither loved nor hated Aza's character. I was frustrated with her at times, but at others I felt a great amount of empathy for her. I found it interesting that she presented herself as a sidekick, even though she's the main character of the book. She was always wrapped up in her own thoughts, and didn't speak much. She didn't always listen much either, though. She too could be self absorbed at times, but I felt like she cared about the people in her life.

John Green's book and his writing about Aza is the first time I've found a story where the character's anxiety felt realistic and had a nice balance. The anxiety wasn't an afterthought, or over dramatized as I've read in other books. Overall, I rated this book a 4.5/5 (I took away  0.5 because of Daisy) and would recommend people checking it out.

I'd love to hear from anyone else who has read Turtles All the Way Down.

Good Hunting!