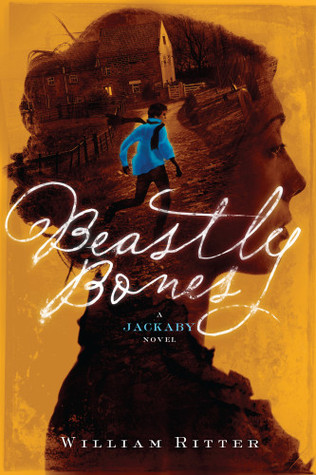 Title: Beastly Bones
Author: William Ritter
Genre: YA, Fantasy, Mystery, Historical Fiction
Series: Jackaby (#2)
Rating: ⅗
Synopsis:
I've found very little about private detective R. F. Jackaby to be standard in the time I've known him. Working as his assistant tends to call for a somewhat flexible relationship with reality . . .

In 1892, New Fiddleham, New England, things are never quite what they seem, especially when Abigail Rook and her eccentric employer, R. F. Jackaby, are called upon to investigate the supernatural. First, members of a particularly vicious species of shape-shifters disguise themselves as a litter of kittens. A day later…
Continue reading the synopsis on Goodreads
My Review:
I had high hopes for Beastly Bones because I  LOVED Jackaby, it was one of my favorite reads this year. I expected to love this book equally, if not more. However, my expectations didn't match reality in this case.
The book opened with a seemingly random situation involving fishy kittens and a burly hunter (his name is Hudson, and I actually became fond of him). It was a unique beginning, but it's quick progression to a string of murders felt rushed and disjointed to me. The book itself was a bizarre mixture of slow and fast, and I felt there was too much focus on Abigail Rook's personal issues: impressing her boss, sticking it to her dad, and battling herself on whether to pursue her romantic inclinations. Now, I normally enjoy these sorts of details in books; it makes it feel more realistic. But this time it felt overdone to me. This book left one with the impression that it was a filler book. The best way I can describe this book is a dirt path between two destinations. The path is usable. It may have some bumps and you may get some dirt in your shoes, but it gets you where you need to go. You may sit down here and there along the way, but the journey certainly isn't the focus; the destination is. That was this book in a nutshell.
The book seemed to drag on forever for me, lacking focus for much of the story. I had a hard time getting through the middle part especially, and it didn't really pick up until the end. Once I reached the last few chapters, I started getting excited because they were practically exploding with action. All of a sudden, I couldn't put the book down. I was so enthralled! I just wish the entire book had made me feel this way. Don't get me wrong, it wasn't a terrible book, but it wasn't fantastic either.
Reflecting on how I felt throughout the book, I feel the author may have focused on details that contributed to the main plot of the next book, Ghostly Echoes. In doing so, I feel he let the main plot of Beastly Bones fall through the cracks a bit. It had a satisfying conclusion, and included enough to carry the book in the right direction, but, in my opinion, did not meet its full potential. It felt clunky and underdeveloped to me, and I wish he could have spent more time developing the plot of this story.
I did enjoy meeting the new characters introduced. They all had unique, bold and memorable personalities. I especially enjoyed Mr. Hudson, the soft hearted hunter and collector of rarities, and the determined Nellie Fuller, a reporter full of fire and courage. Ritter's writing style was still enjoyable and easy to read. I just wish the writing hadn't felt so rushed, and the story so slow. I also missed Jackaby's humorous quips and odd but relatable outlooks, which seemed few and far between this time, until the end that is. Jackaby also seemed distant this time, as if he was preoccupied with a secret we were never let in on. And he was more resistant to listening to Abigail in this book – as if he was annoyed by her presence sometimes.
Overall, this book didn't meet my expectations and was just alright. To me, the book still retained some of the writing elements I enjoyed in Jackaby. But overall, Mr. Jackaby  was too preoccupied and easily flustered, and Ms. Rook was too self absorbed this time for me to truly fall into the book's story. I rate this book ⅗ stars, and have high hope that the next book will pick up a little more! I still feel Ritter's story has promise and am willing to continue walking down this bumpy, dusty dirt path in hopes of reaching a sensational destination.
I'd love to hear the thoughts and opinions from anyone else who has read Beastly Bones.
Good Hunting!