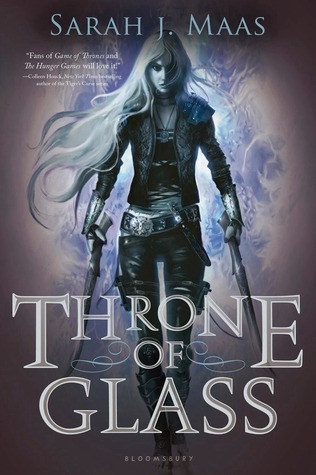 Title: Throne of Glass
Series: Throne of Glass #1
Author: Sarah J. Maas
Genre: Fantasy, Young Adult, Romance
Rating: 5/5
Synopsis:
In a land without magic, where the king rules with an iron hand, an assassin is summoned to the castle. She comes not to kill the king, but to win her freedom. If she defeats twenty-three killers, thieves, and warriors in a competition, she is released from prison to serve as the king's champion. Her name is Celaena Sardothien.
The Crown Prince will provoke her. The Captain of the Guard will protect her. But something evil dwells in the castle of glass–and it's there to kill. When her competitors start dying one by one, Celaena's fight for freedom becomes a fight for survival, and a desperate quest to root out the evil before it destroys her world.
My Review:
Wow. Just. Wow. I'm a little late to the game in picking up and reading this book and boy did I not know what I was missing! This is going to be a longer review than usual because I just have so much to say! Don't worry though, I'll include a quick summary at the end if you want to skip ahead to that instead!
In a way, Throne of Glass feels like a mash up of The Hunger Games and Ever the Hunted, with a spark of uniqueness. Throne of Glass is told from the perspective of 18 year old Calaena Sardothien, Adarlan's greatest assassin. Calaena has spent the last year in a prison camp, serving a life sentence in the Mines of Endovier given by the King of Adarlan. The story begins with Calaena being brought before the Prince of Adarlan, Dorian, who is ready to make Calaena a deal: become the King's champion for a few years in exchange for her freedom. The catch? She has to compete against 23 others, hand selected by various nobles that range from murderers, thieves, fellow assassins and rogue soldiers.
Being Adarlan's greatest assassin, Calaena isn't worried, but spending a year in the Salt Mines of Endovier wrecked her body. She must constantly train while hiding her true identity from fellow competitors and the court, in which she now lives under the watchful eye of Prince Dorians Captain of the Guard (and friend), Chaol.
At first, this story felt like a straightforward competition until some of the competitors start being brutally murdered. Suddenly, Calaena isn't simply fighting for her freedom, she's fighting for her life and is tasked with finding and destroying an evil within the castle. She's less than thrilled about it. All Calaena wants is her freedom but she quickly figures out the murders out of fear for herself and her new friends in the castle.
The different elements of this story kept me enthralled from start to finish. The pace of the plot and addition of new elements was fantastic, and kept the story from becoming stale. There was an air of mystery that kept me wanting to read on. There was also a touch of romance and newfound friendships, but these weren't distracting from the main storyline, and, in my opinion, added depth to the characters and their interactions.
Calaena was an enjoyable character. At times she seemed a bit arrogant to me. She put on a show of sass and aggression. But beneath this, she cares greatly about the people in her life and displays a love of life that seems to go against her violent skillset and reputation. She slowly revealed that as an assassin, she had particular rules about who she would assassinate, and worried that as the King's Champion, she wouldn't have this luxury of choice. I felt like this was another clue towards Calaena's true nature – that killing had to be justified; have some higher purpose that she believed was worthy of the loss of life. As the book continued and she revealed more about herself, I grew to respect and like Calaena's character.
Besides Calaena, I also loved Chaol, the Captain of the Guard and Prince Dorian's friend. He came off stern, serious and considered Calaena a huge threat. But beneath his gruff exterior, he was intelligent, loyal and good hearted. Even though Chaol considered Calaena a threat, he worked with her constantly, helping her train while keeping an eye on her at the same time. Even with her past and Chaol's strict views, the two started to form a tenuous friendship, which only grew over time. By the end, Chaol sticks by Calaena's side, supporting and protecting her.
The third character I want to discuss is Dorian, Chaol's polar opposite, best friend and Prince of Adarlan. I didn't like him nearly as much as I liked Chaol. Dorian often rubbed me the wrong way. Not that he didn't have some good qualities: he could be respectful, kind-hearted and intelligent. His conversations with Calaena were often entertaining or insightful. But I felt like there was a shallowness to him, dare I even say cowardice, at some points – especially those involving his father. Those moments really grated my nerves, though I will say it lead to some interesting character development by the end of the book.
On a side note, all three of the characters also loved to read. So overall, I'm bound to have a soft spot for all of them. All the interactions they had with one another were spot on and contributed to the story so much. The story as a whole kept me on my toes as it unfolded, and though I thought some of the hinting at past secrets and things to come was a bit heavy handed, it added some suspense as to what was to be revealed in future books. Throne of Glass is just such a well balanced and fantastically written book, I can't wait to dive into the rest of the series and see what happens.
Review Summary:
Fantastic writing. Fantastic plot. Fantastic characters.
Has some Hunger Game vibes mixed with a well developed fantasy world.
The conversations the characters have are A++ quality great and add to the story in the best way possible.
Calaena started as annoying but her sassy ways grew on me. She ended up being a pretty awesome character I enjoyed reading and at times respected.
I loved Mr. Grumpus, a.k.a Chaol, and felt he had a lot of depth. He's full of surprises and had a truly good heart behind his rough exterior.
Dorian was okay and had a lot of growth potential, but I found him shallow in comparison to some of the other characters.
The writing was well balanced, diverse, constantly full of twists and intrigue, making it positively enthralling.
Seriously, overall Throne of Glass  was amazing!!! What are you waiting for? Go read it!!