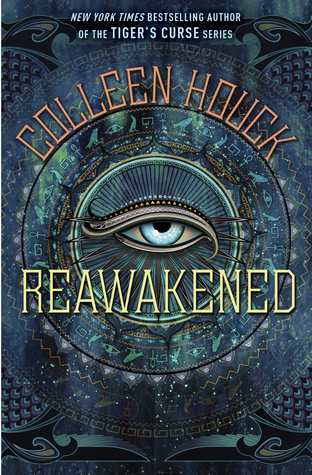 Title: Reawakened
Series: Reawakened #1
Author: Colleen Houck
Genre: Fantasy, Young Adult, Mythology, Romance
Rating: 3/5
Synopsis:
When seventeen-year-old Lilliana Young enters the Metropolitan Museum of Art one morning during spring break, the last thing she expects to find is a live Egyptian prince with godlike powers, who has been reawakened after a thousand years of mummification.
And she really can't imagine being chosen to aid him in an epic quest that will lead them across the globe to find his brothers and complete a grand ceremony that will save mankind.
But fate has taken hold of Lily, and she, along with her sun prince, Amon, must travel to the Valley of the Kings, raise his brothers, and stop an evil, shape-shifting god named Seth from taking over the world.
My Review:
I've mentioned my love of Colleen Houck's book series, Tiger's Curse, on my blog before (you can find the post here). I absolutely adored this series and I still reread the series to this day. I was practically ecstatic when I heard she came out with another series and rushed to get my hands on a library copy.
I was absolutely hyped to read Reawakened but I ended up a little…disappointed? Not that is was a bad book! Don't get me wrong! However, I didn't enjoy it as much as I expected. I enjoyed the book enough to finish it and am willing to give the second book in the series a chance, but some elements of the book frustrated me.
The book's main character is a girl named Lilliana (Lily) Young. She's 17, lives in New York and seems like she's living the perfect life. Rich parents, lives in a penthouse, straight A student, accepted to every university she applied to, little to no restrictions on anything in her life…I honestly did not like how "perfect" Lily and her life seemed to be. This wealth, and thereby connections, is what allowed her to be in a restricted section of a museum, leading her to be introduced to the second character of the book, Amon. I know it's a fantasy book, but it's all just too….tidy.  That was my biggest issue with the book, with a few other small things, and I wish it had been more creative and not just thrown in there for, what felt like to me, a convenient beginning.
The second character, Amon, is an immortal prince of Egypt, the embodiment of the sun god, Amun-Ra, and possesses the Eye of Horus. He rises every 1,000 years and needs' to get back to Egypt, and he need's Lily to do it. What proceeds is a whirlwind adventure to Egypt to raise Amon's brothers, the embodiments of the Moon and Star Gods, and a ceremony  to prevent the end of the world by the God of Chaos. I really did like the unique take on Egyptian mythology and Houck's attempt to bring it into the modern day. I grew up with a huge love of Egyptian mythology, so it was fun to revisit some of my favorite myths and see how Houck incorporated them into her book.
The first half of the book was very slow, as it was setting up the story of Lily and Amon meeting, Amon trying to explain his situation and Lily (understandably) freaking out. I felt like her reaction was fairly accurate given the situation, with her bouncing between thinking he's insane to a dying cancer patient. It takes a little bit for her to believe him and actually get the adventure bit started. Amon has to demonstrate a lot of his abilities, such as mind control, sand manipulation and a host of other superhuman abilities, before Lily believes him and stops trying to call the cops. The rest of the book is fairly action packed after that, which I very much liked. There is also a lot of romantic tension throughout the book, which is perfect for the month of February (and had no influence on me publishing this post on the 14th….whatsoever…). Amon's brothers provided some good comedic relief, but they're not prominently featured until later in the book.
Overall, the book's plot felt somewhat predictable, however I believe part of that was because I am a huge fan of Colleen Houck's previous series. There was a lot of similar elements and personalities, causing me to compare between books, and figure out the plot elements quickly. I strongly believe I would have enjoyed Reawakened a lot more if I had not read Tiger's Curse, and even given that I still found it a pleasant read. If you enjoy a romantic adventure with mythological twists, I recommend you check out Reawakened. I give this book a 3/5, and a few crossed fingers for the next book of the series.
Have you read any of Reawakened, or any of Colleen Houck's books? What did you think?  Do you love Egyptian mythology? Let me know down in the comments below!
Happy Valentines Day, and Good Hunting!!!