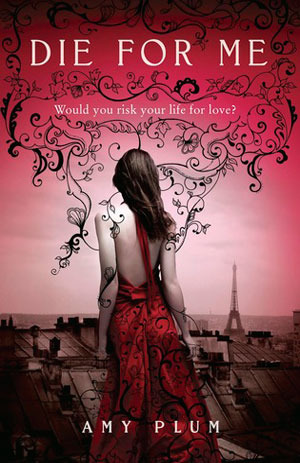 Title: Die for Me
Series: Revenants #1
Author: Amy Plum
Genre: YA, Paranormal, Fantasy, Romance
Rating: 3/5
Synopsis:
In the City of Lights, two star-crossed lovers battle a fate that is destined to tear them apart again and again for eternity.
When Kate Mercier's parents die in a tragic car accident, she leaves her life–and memories–behind to live with her grandparents in Paris. For Kate, the only way to survive her pain is escaping into the world of books and Parisian art. Until she meets Vincent.
Mysterious, charming, and devastatingly handsome, Vincent threatens to melt the ice around Kate's guarded heart with just his smile. As she begins to fall in love with Vincent, Kate discovers that he's a revenant–an undead being whose fate forces him to sacrifice himself over and over again to save the lives of others. Vincent and those like him are bound in a centuries-old war against a group of evil revenants who exist only to murder and betray. Kate soon realizes that if she follows her heart, she may never be safe again. 
Review:
In my previous post, The 4 Things I did to Break My Writer's Block, I mentioned that I reread books as part of getting out of my writing slump. Die for Me was one of the books I decided to try rereading. I first read this book around the beginning of high school and absolutely adored it. I was curious to see if my opinion of the book had changed over the years, or if I still thought it was amazing. When I first read this book, years ago, I would have given it 5 stars and a full on fangirl rant. After rereading it however, I found that it didn't exactly match with my memory. I found myself nitpicking a lot more, and ultimately decided that though it was enjoyable, it wasn't a 5 star read for me anymore.
The book starts with a young girl named Katya (Kate) who moved in with her grandparents in France with her older sister after their parents died. She grew up speaking French and visiting France every summer, so it is in no means a strange place. But Kate is practically paralyzed by her parents deaths. She disconnects from everyone and buries herself in books, movies and art to distract herself from the grief. She begins to notice a handsome boy named Vincent around her neighborhood, and starts bumping into him and spending time together. The next thing she knows, she's sucked into what feels like an entirely new world – the world of the revenants.
I should include a trigger warning here. This book does deal with the theme of death, depression and suicide, which can be a sensitive subject to some. Though the topics are well handled, I would not recommend this book to anyone who is sensitive or triggered by these topics.
This book isn't your typical paranormal book with vampires or zombies. The author chose to take a fresh spin on the undead by reinventing revenants. Revenants are apart of folklore, and are a type of ghost or animated corpse that are revived from death to haunt the living. The author took this folklore and made it her own. She invents two types of revenants; the "good" guys, who died in the place of another and reanimated after death to continue protecting and saving humans. Then there are the "bad" guys called Numa, who betrayed someone to death and are revived to continue betraying and killing people. These two revenants are two sides of the same coin, with one providing balance to the other. Vincent is a good revenant, and he and his kin are currently warring with the local group of Numa. I thought this was an interesting part of the book and found it refreshing.
The romance between Kate and Vincent reminds me of Bella and Edward in Twilight. It develops quickly, and they seem to be a little obsessed with each other beyond what is healthy. Kate's obsession could be in part to her searching for a distraction from her grief, and Vincents due to being a revenant. Either way, their relationship bothered me a little bit because it didn't feel healthy. I also felt like they jumped into a serious relationship without actually getting to know each other. I wish that their relationship had developed a little more and been healthier. This is recognized a little bit throughout the book, but isn't fully fixed either.
These two aspects make up the majority driving factors of the book. Theres a bit of action and danger due to the Numa, but the plot mainly consists of Kate and Vincent's turbulent relationship, and Kate coming to terms with what Vincent is. The plot was a bit rushed in places, and I wish it would have slowed down, and further developed Kate and Vincent's relationship. There was a a lot of side characters that were enjoyable to read about, and added a little more depth and humor to the story. Overall it was a fun and quick read that I found enjoyable, and the new take on the supernatural was refreshing. I rate this book 3/5 stars.